Dear Reader,
You'll find my books and series below. All are standalones and can be read in any order you want (though you'll probably see some familiar faces in the form of crossover characters).
I have three regency romance series that are ready for your hungry eyes. I'm also working on a new historical Mail-Order Bride series.
All books are traditional sweet historical romances and can be read as standalones. The books are available as paperback, large print editions, and some even as audiobooks.
1. The Wharton Series: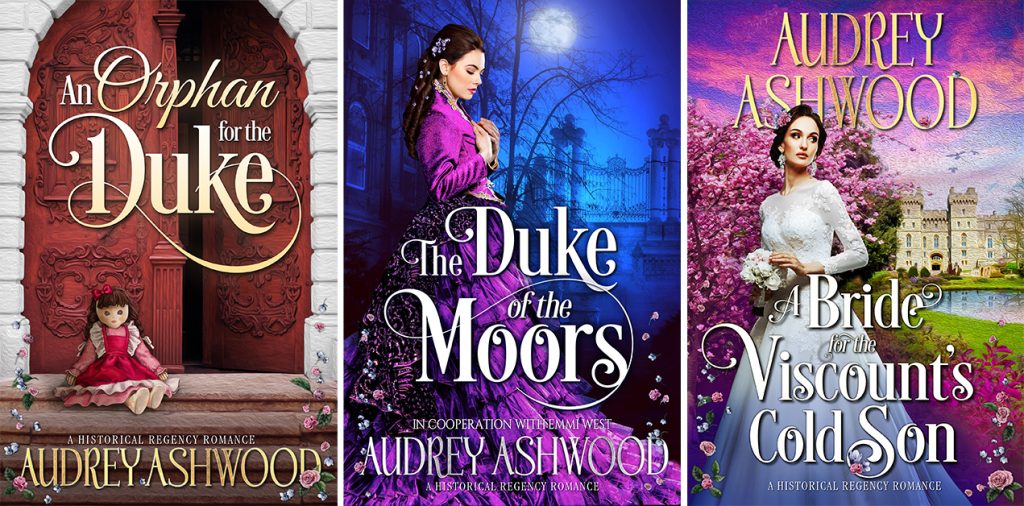 This is a clean and wholesome historical romance series about the Wharton family, set in romantically mysterious Regency era. Included in this series is my bestselling novel: An Orphan for the Duke (a reader favourite!).
This series features several different plotlines, including the tale of a duke who agrees to raise the orphaned daughter of his dying best friend, only to find she's not a child but a beautiful woman; a women on the brink of ruin who must marry a dark duke with an even darker secret; and a poor girl whisked into a world of wealth and privilege by her grandmother.
More books are in the works.
Book 1: An Orphan for the Duke
Book 2: The Duke of the Moors
Book 3: A Bride for the Viscount's Cold Son
Book 4: TBD
2. The Evesham Series: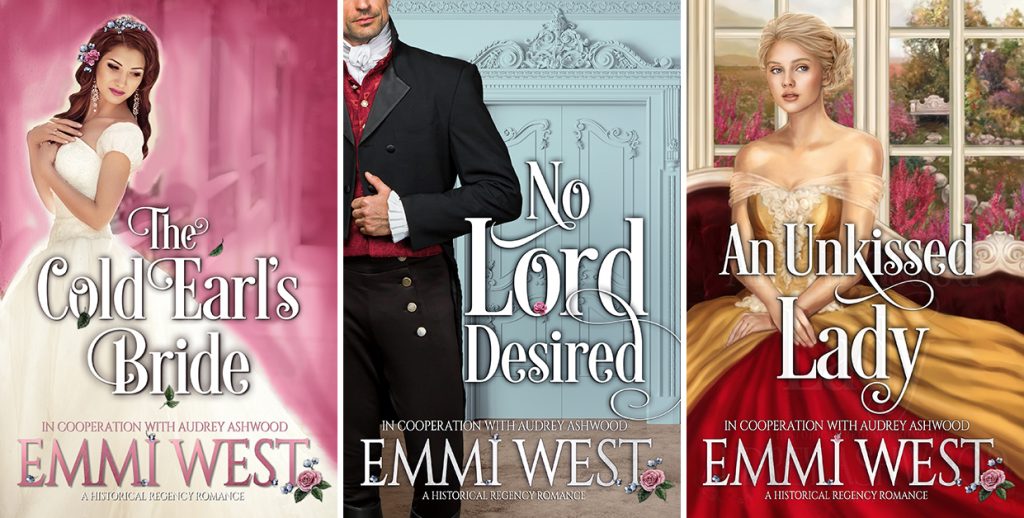 The Evesham Series is a sweet historical romance series written by Emmi West, English edition co-written by Audrey Ashwood. It features the three Evesham daughters (Annabelle, Felicity and Rose) on their journey to finding love. While each book is a standalone, starting at the beginning (and going in order) is more fun.
Book 1 (Annabelle): The Cold Earl's Bride
Book 2 (Felicity): No Lord Desired
Book 3 (Rose): An Unkissed Lady
3. The Curtis Sisters Series:
This is a clean and wholesome historical romance series written by R.R. Wynter and co-written by Audrey Ashwood. It features the tantalizing tale of three sisters, captivatingly sweet and soulfully (if hopelessly) romantic. Come along and join Rosalie, Grace, and Claire on their quest to find their happily ever afters.
Book 1 (Rosalie): To Love A Rogue
Book 2 (Grace): To Steal A Duke's Heart
Book 3 (Claire): To Romance A Scoundrel
4. The Undesirables Series:
This is a sweet and historical Mail-Order Bride romance series that features the stories of the Undesirables – plain, mousy, poor women who must become Mail-Order-Brides in order to find love. Enter a darkly handsome and courageous hero and sparks are sure to fly.
Coming in 2022/23
Book1: TBD
Book2: TBD
Book3: TBD
---